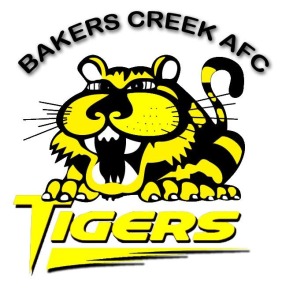 Bakers Creek Tigers are looking for the right person to lead by example, and teach our expanding and developing playing group in 2020!
Are you a leader looking for an exciting new challenge and opportunity in the sunny seaside topicals of Queensland?
This is a unique and exciting opportunity, for a great communicator to lead the resurgence of a Club that went from 102 playing members in 2018, to 234 in 2019.
Solid foundations are already in place with the Seniors, Under 17 & Under 12 playing finals this season, and the Women & Under 14 winning the Premiership! This success, added to the current proactive recruiting drive, offers the perfect opportunity for you to implement your experience, knowledge and skills.
Bakers Creek Tigers are a welcoming, family focused, community oriented football club – with a strong on and off field culture.
Bakers Creek Tigers are seeking the expressions of interest for the following (playing or non-playing) coaching positions for the 2020 AFL Mackay season:
• SENIORS COACH
• RESERVES COACH
• WOMEN'S COACH
• UNDER 17 COACH
• UNDER 14 COACH
• UNDER 12 COACH
• UNDER 10 COACH
• UNDER 8 COACH
• UNDER 6 COACH
Employment assistance is possible if required.
To apply please contact Ash Ryan at ashryan@live.com or at 0488224224. Applications close Friday November 1.