Be a hero, son.
Half way through the third quarter in the Sufers Paradise Mt Gravatt QAFL Reserves game on Saturday, the Demons found themselves down by 23-points. At the final siren, they still trailed by four points, but the ball was in Matt Walker's hands. He went back with ice in his veins, and drilled one from 25 out on a 45-degree angle to become the hero, and give the Demons the win. Not a bad time of the day to kick your first goal of the afternoon, either!
GF preview?
Saturday could have well been a QFA North Grand Final preview, and if it was anything to go by, what a final game of the season it's going to be. Only a solitary point separated Mayne and Maroochydore, with the Tigers taking the four-points. To set the scene for the day, the biggest margin at any break was four-points, showing just how close it is between these two. Caloundra and Noosa will have something to say about that prediction, but whoever ends up in the big dance, it's should be a classic.
100 again!
Just one week after Trent McIntyre brought up the goal-kicking ton, George Fitzgibbon joined the party with the last goal of the home and away season. Coming into Kedron's QAFA A game against Park Ridge, Fitzgibbon needed nine majors. By three-quarter time, he had seven. After kicking the first in the last quarter to take his tally to 99, he looked a moral to bring the milestone up, but gee he cut it fine. At the 24-minute mark of the final quarter, he went back and slotted goal 100, and the boys came from everywhere to get around him.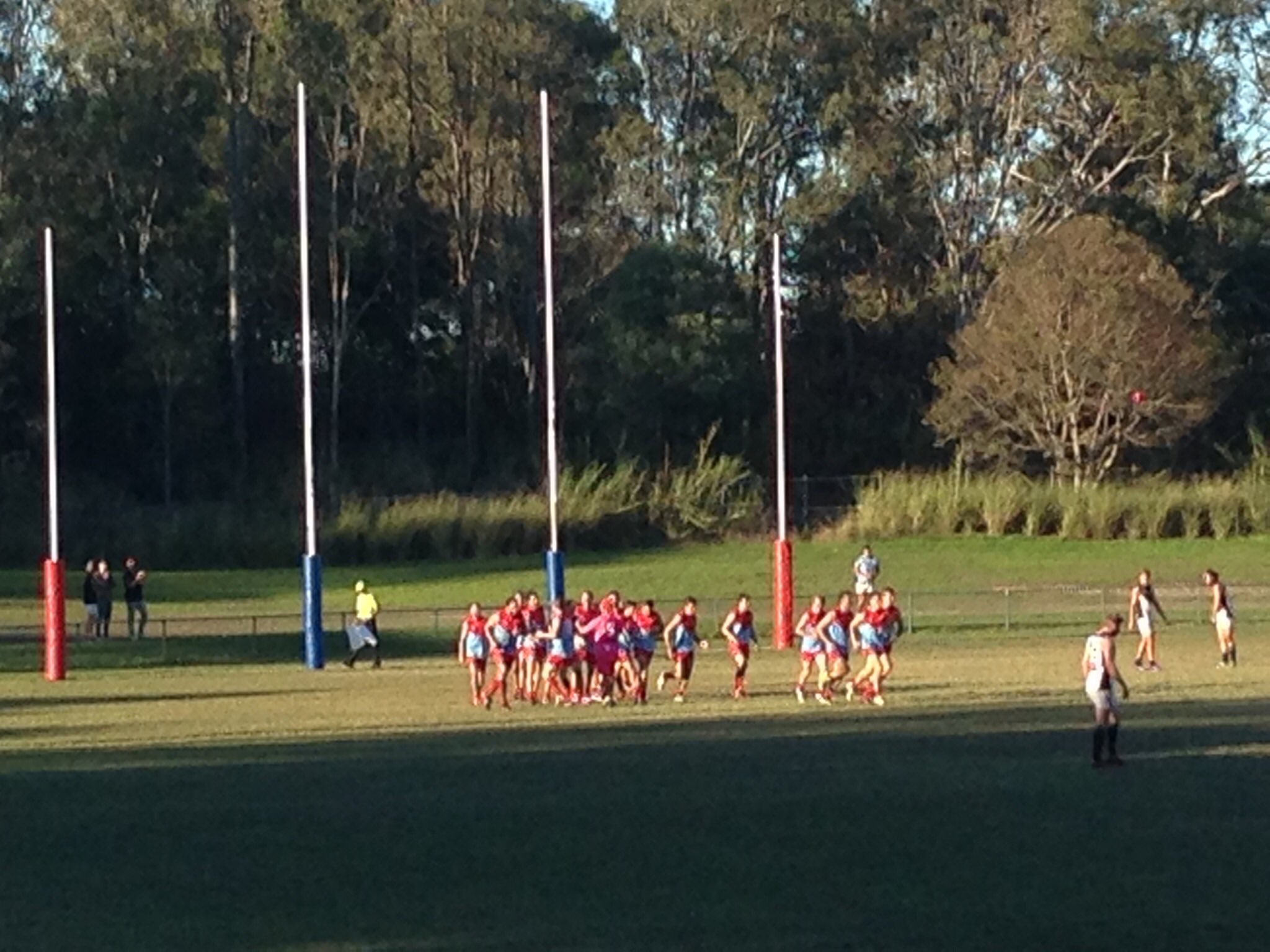 Hey kids, it's finals time.
A few of the regions are well into the swing of junior finals already, but this weekend, it is South East Queensland's turn. Over the course of this weekend, the Brisbane, Gold Coast and Sunshine Coast finals all get underway. Good luck, kids!
Who wants it more?
The race for the title of QWAFL leading goal kicker is red hot with just two rounds remaining. Currently, just 10 goals separate the top six. Coolangatta's Kalinda Howarth and Zillmere's Tayla Harris lead on 28, but snapping at their heels are Yeronga's Jade Ransfield and Dame Leach, on 23 and 21 respectively.   While Harris and Howarth are in the box seat to fight it out, it's only going to take a day out from any of these players, well anyone in the top six really to pinch the title. I hope they pack their kicking boots.
The whispers
It's this time of year when the rumors start flying around. Where will such and such be playing in 2017? Who will be coach of said club? Some are true, some are not. There is a bit going on in QAFL land at the moment though. Could one, or maybe even two former AFL players be headed to the coaches box in 2017? Watch this space…
---
By Andrew Wiles
Follow @andrewjwiles