QFA SOUTH GRAND FINAL
COORPAROO KINGS v. SPRINGWOOD
Coorparoo Kings 4.0, 4.5, 5.7,  8.9  (57)
Springwood 5.2, 6.4, 7.4,  8.6  (54)
Coorparoo won a classic to take out the 2016 QFA South Premiership
There was only seven goals kicked after quarter time when the rain hit, but it was an enthralling battle.
Check out the full recap here: https://aflq.com.au/live-145pm-qfa-south-grand-final/
QAFA (A) GRAND FINAL
SOUTHEAST SUNS v. KEDRON
Southeast Suns 4.6,  8.8,  11.10,  15.13  (103)
Kedron 1.2,  3.3,  7.4,  8.5  (53)
18 games, 18 wins, and a flag.
It's been an unbelievable season from the South East Suns, and they capped it off in resounding fashion.
From the opening bounce, they were on.
Their first quarter yielded 10 scoring shots, while Kedron could only muster up the three.
By half time, the lead was out to 35-points. In a Grand Final, that is worth double that. You don't see many teams coughing that advantage up.
Kedron had a dip in the third quarter, but could only get as close as 30-points.
Once Cassidy and Williams goaled to start the fourth, it was all over red rover. The Suns were on their way to a premiership.
Kedron had a crack, they didn't roll over, but the Suns were just too good, as they have been all year.
They have a fantastic ability to win the contested ball, but still move it quick enough that their forward line is open, allowing their big forwards can go to work.
Superb performance.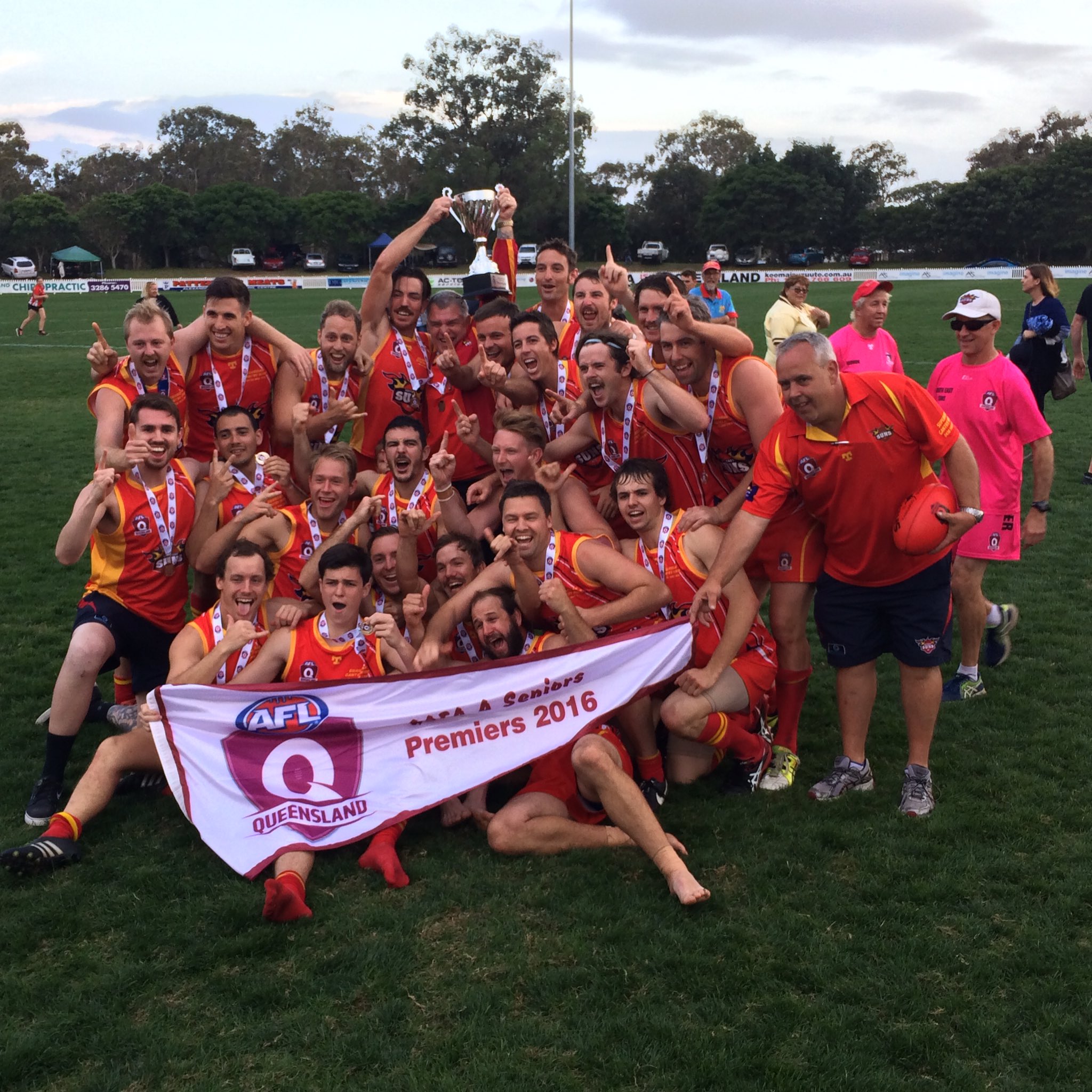 QWAFA GRAND FINAL
MAROOCHYDORE WFC v. YERONGA SOUTH BRISBANE WFC
Maroochydore 2.5, 2.5, 2.6, 4.8 (32)
Yeronga South Brisbane WFC 0.0, 2.5, 2.5, 2.5 (17)
Not even a last minute change of venue due to a torrential downpour could derail Maroochydore's QWAFA Premiership campaign.
They capped off a perfect first season in the competition with a 15-point win over Yeronga South Brisbane in the Grand Final on Saturday evening.
The soggy conditions at Graham Road, Aspley, couldn't dampen the spirits of the Lady Roos, who were yet to lose coming in.
It was their first and last quarter that did the trick.
Maroochydore showed early why they have been the front-runners all year.
They kicked 2.5, and held Yeronga scoreless in the first. It was a dream start.
As conditions got worse, the game evened up. Yeronga were able to level the scores by half time to make things very interesting.
A solitary point to Maroochydore in the third quarter meant the game was up for grabs going into the final quarter of the year. It was a case of who wanted it more.

The answer was the green and yellow. They booted 2.2, while holding Yeronga scoreless once again.
They had done it. The Lady Roos were premiers.
In the end, they just played the conditions better. They got the ball moving forward, they didn't over posses, and when the game was on the line, they found a way to score.
Maroochydore's Taylah Day was named best on ground, after winning a heap of footy in tight. Her role was pivotal.
One season, 16 wins, zero losses, one premiership cup. What a year.
---
By Andrew Wiles
Follow @andrewjwiles